Ford Everest.
Freedom is waiting.
Choose the 3.2L TDCi diesel engine with 6-speed auto transmission or the extraordinary new 2.0L Bi-Turbo engine with 10-speed auto that delivers 157kW of power and 500Nm of peak torque, with greater engine refinement and outstanding fuel economy. RWD or 4WD, five seats or seven, the Everest is ready to discover what lies beyond the road's end.
One Epic SUV
Our most adventurous SUV is now more advanced. Introducing the 2019 Ford Everest. Incredibly dynamic on the road and right at home off-roading it. The design is bolder and more aerodynamic on the outside, while inside the tech is smarter and the addition of a new 2.0L Bi-Turbo Diesel with 10-speed automatic transmission takes power and fuel efficiency to the next level. So get ready to free your SUV and see what this Everest can really do.
Capability.
Our most capable SUV yet.
Designed to tackle tough terrain and unexpected obstacles, the 2019 Everest is rough and ready. Discover what lies beyond the road's end.

Powerful Performance.
The power to conquer any terrain.
2.0L TDCi Bi-Turbo Diesel
Don't settle for less. The new advanced 2.0L Bi-Turbo Diesel engine with 10-speed automatic transmission delivers more power and engine refinement with outstanding fuel efficiency. Intelligently managing two turbos for enhanced torque, responsiveness and power.
3.2L TDCi Duraotorq Diesel
Our powerful, turbo-charged 3.2L TDCi Duraotorq engine lets you effortlessly cruise around town, while still giving you all the power you need to tackle your off-road adventures.

Intuitive Control.
Technology designed with you in mind.
Make a quick hands-free call. Park perfectly. Keep control in changing traffic conditions. Whatever it is you need to do, Everest's intuitive technology is ready to help.parks perfectly.

Clever Comfort.
A comfortable ride while you explore the world.
Extraordinary details like active noise cancellation make the Everest the ultimate pleasure on any adventure.

Compare Models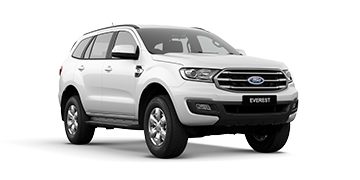 Everest Ambiente RWD 3.2L Diesel
Standard Features Including:
Rear View Camera
Maximum Towing Capacity - Braked 3000kg
5 Seats (optional 3rd row seat)
SYNC® 3 Connectivity System with Applink® and Enhanced Voice Control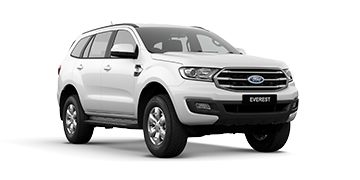 Everest Ambiente 4WD 3.2L Diesel
Standard Features Including:
Terrain Management System
Maximum Towing Capacity - Braked 3000kg
5 Seats (optional 3rd row seat)
SYNC® 3 Connectivity System with Applink® and Enhanced Voice Control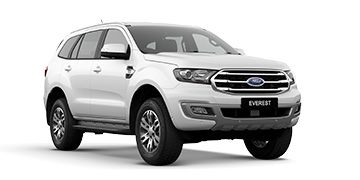 Everest Trend RWD 2.0L Bi-Turbo Diesel
Standard Features Including:
18" Alloy Wheels
Handsfree Power Rear Liftgate
Adaptive Cruise Control with Forward Collision Alert
Pre-Collision Assist with Pedestrian Detection (Autonomous Emergency Braking)
7 Seats (with 3rd row seat)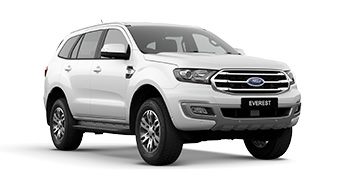 Everest Trend 4WD 3.2L Diesel
Standard Features Including:
18" Alloy Wheels
Handsfree Power Rear Liftgate
Adaptive Cruise Control with Forward Collision Alert
Pre-Collision Assist with Pedestrian Detection (Autonomous Emergency Braking)
7 Seats (with 3rd row seat)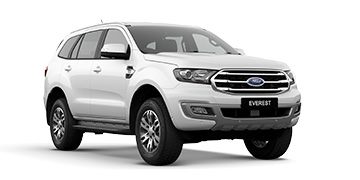 Everest Trend 4WD 2.0L Bi-Turbo Diesel
Standard Features Including:
18" Alloy Wheels
Handsfree Power Rear Liftgate
Adaptive Cruise Control with Forward Collision Alert
Pre-Collision Assist with Pedestrian Detection (Autonomous Emergency Braking)
7 Seats (with 3rd row seat)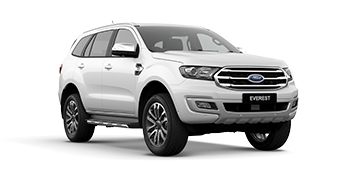 Everest Titanium 4WD 2.0L Bi-Turbo Diesel
Standard Features Including:
20" Alloy Wheels
Tow Bar
Active Park Assist (Semi-Auto Parallel Park Assist)
Panoramic Power Sunroof with Power Blind